About Barrett M. Keating Conservators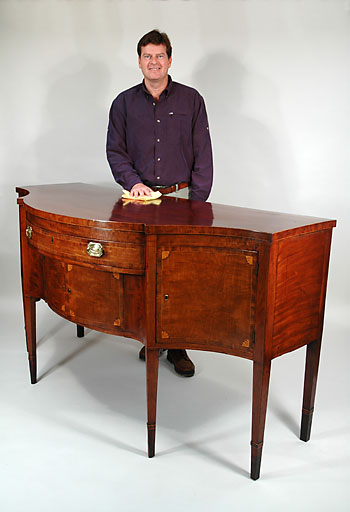 Barrett M. Keating grew up on Cape Cod following his passion for building boats and wooden furniture.   He began his career providing high-end furniture reproductions and restoration services for firms like the original Eldred Wheeler, as well as private clients.   While doing custom work, for twelve years he was studying with top experts in the conservation field, those associated with institutions like Winterthur, The Society for the Preservation of New England Antiquities, The Getty Museum, and the Conservation Analytical Laboratory at the Smithsonian. 
This experience has enabled Barrett to undertake both simple repairs and extensive restoration and conservation treatments to meet the needs of large and small museums and institutions, historical societies and private collectors, auction houses, antique dealers and the public. 
Barrett's technical advice and expertise are now sought after nationwide.  For 30 years Barrett M. Keating Conservators wide range of clients have entrusted Barrett to maintain and preserve the value, historical integrity, and aesthetics of their most valuable antiques and objects.
Barrett is an active member of the following organizations:
Wooden Artifacts Group (WAG) of the American Institute for Conservation of Historic and Artistic Works (AIC)
Objects Specialty Group (OSG) of the American Institute for Conservation of Historic and Artistic Works (AIC)
Western Association for Art Conservation (WAAC)
New England Conservation Association (NECA) (former board member)
International Institute for Conservation (IIC)
New England Museum Association PAG co-chair (NEMA)